If you're not careful, using social media to market your business can really eat into your time. The native platforms for Facebook and Twitter aren't really intended to be used in this way, and if you are managing accounts on multiple channels, then keeping engaged on them can be a sizeable task.
That's why social media dashboards such as Hootsuite and Tweetdeck have become so popular in recent years, as these can be used to streamline many of the common chores associated with mounting and maintaining a social media campaign. Here, we have compared seven of the most popular dashboarding solutions, from free services up to high-end enterprise class services.
TweetDeck
If the main part of your social media efforts centres around Twitter, then Tweetdeck offers a strong set of management tools available for this platform. It's owned by Twitter themselves, which means that some of the more useful automation functions of other platforms aren't available (because Twitter wants to discourage these). It allows you to track all the most important real-time conversations, and keep on top of the latest happenings in the Twittersphere by customizing the layout and using filters. It can also be used to schedule tweets, get notification alerts for new ones, and manage an unlimited number of accounts. As well as the browser version, there are also apps available for iOS and Android devices, and best of all, it's completely free.
Hootsuite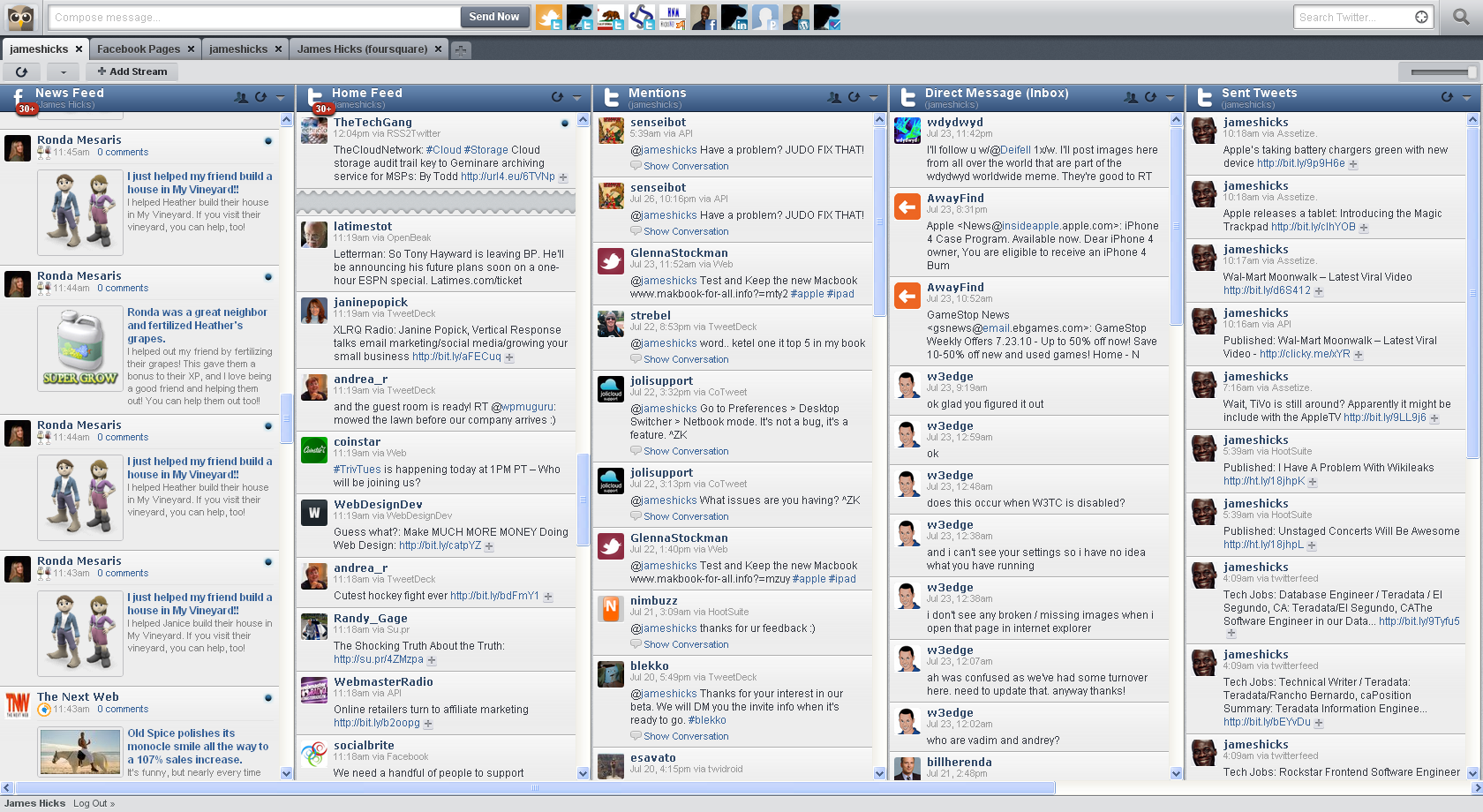 By far the most popular social dashboard, Hootsuite combines ease of use, a fairly comprehensive feature set, and relatively low pricing. The dashboard uses a tabs-based setup where you can arrange the various new feeds/message lists etc into columns, and the Hootlet browser plugin makes it easy to auto-schedule content sharing so it comes out at the most strategic times. You can manage up to five accounts for free, or you can upgrade to the premium account, which has more features and unlimited accounts, for a fairly reasonable $8.99 per month
Buffer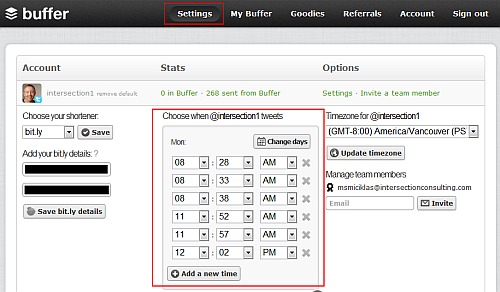 This is one of the more recent entrants into the social media management market, but it has already gained a lot of fans. It's unique selling point is that it's quite a bit easier to use than Hootsuite, with all the relevant information for your linked accounts visible within one simple page. It comes with its own social button, which streamlines the process of sharing your content in a staggered way that little bit easier than it is with Hootlet, although it means that you do have to add this button to all your articles, taking up precious screen space. It's very flexible though, and can be accessed via your browser, mobile apps, and most of the major news reader applications. Most features are free, but there is a premium package available for $10 per month which offers additional features and up to 12 accounts, and more expensive business/agency versions are available on request.
Blurtster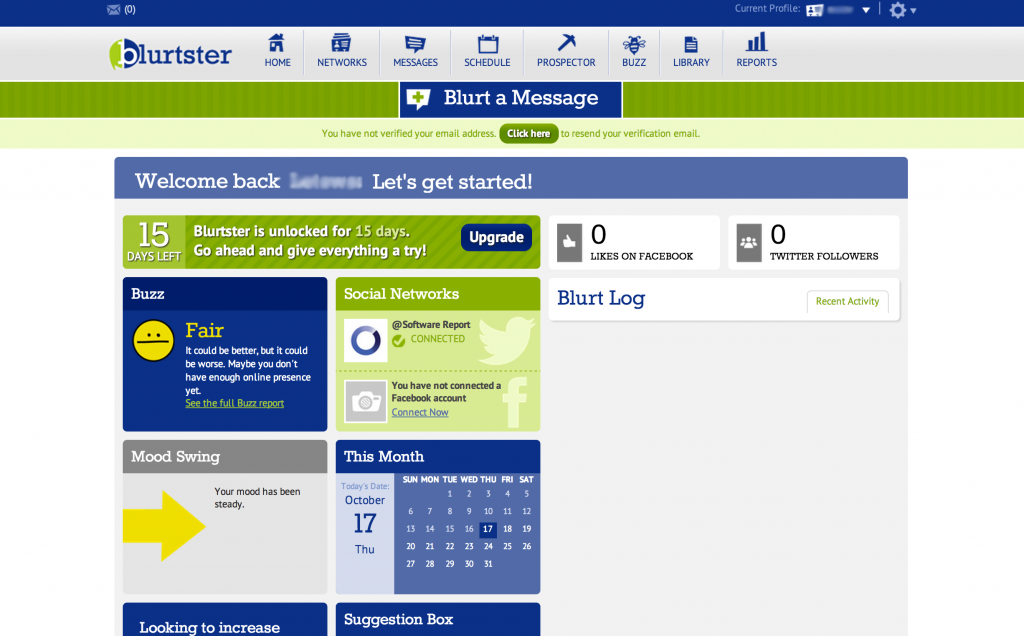 This offering is aimed squarely at the small business, with tools for monitoring the social buzz around your company or brand, finding out what individuals are saying about you, finding out about and contacting potential customers, and send messages out across multiple networks. Similar to Buffer, the data from your various feeds is combined into one simple stream, rather than several tabs. While it isn't the most fully featured offering here, it's great value at under $10 per month, and there is a free 15-day trial available.
SocialOomph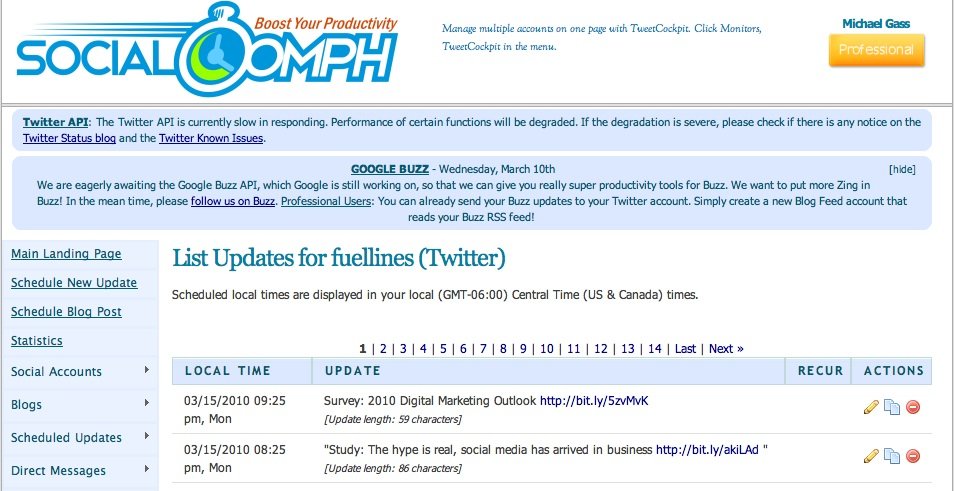 This social media manager provides lots of features for managing multiple accounts across different platforms. Using SocialOomph, it's easy to schedule tweets, extend Twitter profiles, manage an unlimited number of accounts, and view several news feeds at once. It's greatest strength is its high level of integration with the native features of each platform, which means that you will rarely have to use the proprietary interfaces. A free version is available with a limited number of features, or you can opt for the paid version which seems a little pricey at $18 every two weeks, but it does have a jaw-dropping feature list that enables you to automate virtually all of your social media activity, including follower copying and keyword-based friend targeting.
Sprout Social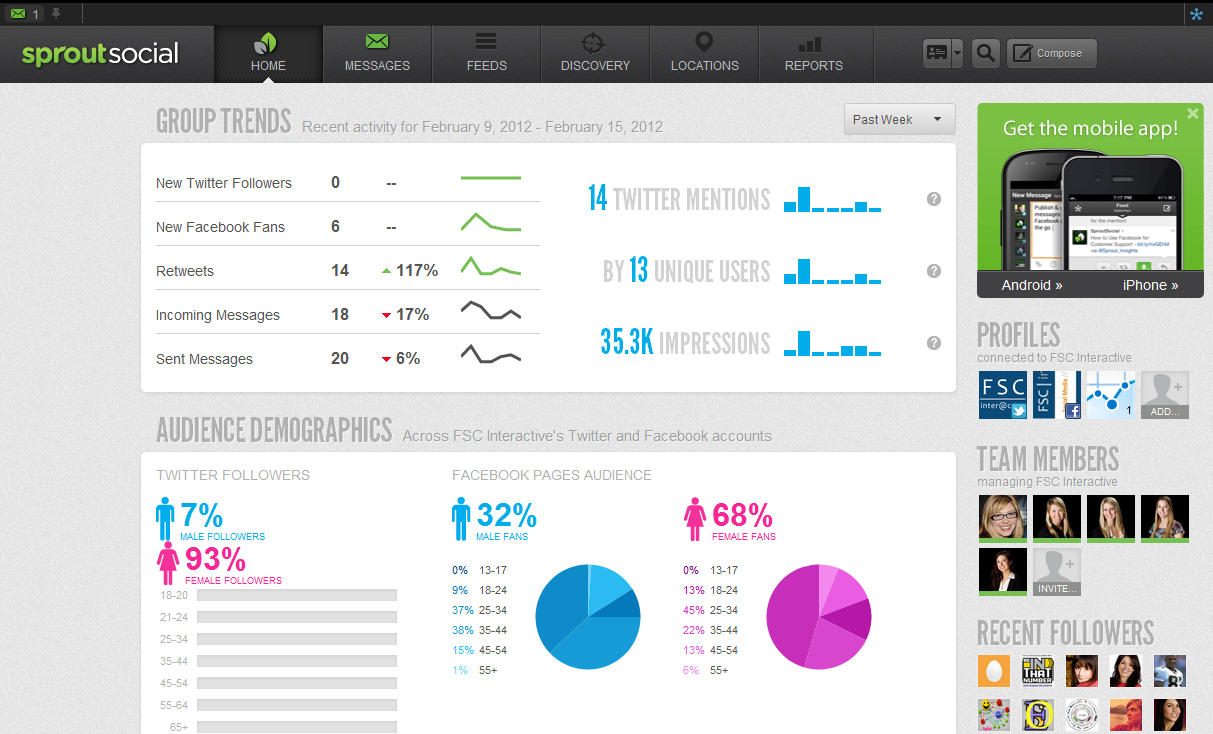 Like Spredfast, Sprout Social combines social media monitoring and analytics with a scheduling tool. Although there is a free trial, it's not cheap – the basic package starts at $39 per user per month and goes up to $99 for the premium package. However, some will feel that the incredibly comprehensive feature set, coupled with what is probably the slickest interface on show here, is worth the outlay. Headline features include send time optimization, integration with Google Analytics, and the ability to manage up to 50 profiles. Ultimately, not everyone will need to use all the tools on offer here, but it's worth giving it a month's free trial just to see whether it could make a worthwhile difference to your business.
SpredFast
This service combines the scheduling and automation features of the likes of Hootsuite and Tweetdeck with an advanced set of analytical and monitoring tools to help you decide how to steer your social media efforts. This enables you to listen in to the social chatter that surrounds you, your company, or your brand, and engage with it in a time-efficient yet effective manner. This can help you to build up your network and reach quickly and organically, making intelligent use of engagement and tools such as hashtags. Of all the services featured here, this is by far the most powerful and feature-packed, but it's also the most expensive by a long way. So expensive, in fact, that they don't list pricing on their website – although independent reviews estimate the average cost at around $2k per month, which places it firmly in the high-end bracket.
I am a writer based in London, specialising in finance, trading, investment, and forex. Aside from the articles and content I write for IntelligentHQ, I also write for euroinvestor.com, and I have also written educational trading and investment guides for various websites including tradingquarter.com. Before specialising in finance, I worked as a writer for various digital marketing firms, specialising in online SEO-friendly content. I grew up in Aberdeen, Scotland, and I have an MA in English Literature from the University of Glasgow and I am a lead musician in a band. You can find me on twitter @pmilne100.