· The concept of Industry 4.0, Intelligent Industry or 4th Industrial Revolution involves the digitalization of production processes in industry, either through sensors or through information systems, transforming these processes to make them more efficient.
· The concept of Society 5.0 was promoted by the Japanese government in 2015, an idea based on considering society at the centre rather than the industry.
· Explore the impact of Society 5.0 and 4IR on society at the upcoming openbusinesscouncil Summit on December, 9-11.
VIRTUAL EVENT, YOU ARE OUR GUEST
4IR is the unfolding age of digitalization—from the digitally connected products and services we consume, to advancements in smart cities and factories and increasingly common automation of tasks and services in our homes and at work. Progress brought by 4IR is characterized by continuous growth and rapid changes, with the goal of prospering and improving living standards through services and products with high added value.
The society 5.0 concept that is being coined by many like me and is focused on the balance between society, tech + nature but not only regarding the industry, tech. The concept of Society 5.0 was promoted by the Japanese government in 2015, an idea based on considering society at the centre rather than the industry.
What is 4IR, The Fourth Industrial Revolution or Industry 4.0? 4IR is characterized by the fusion of the digital, biological, and physical worlds, as well as the growing utilization of new technologies such as AI, cloud computing, robotics, 3D printing, IOT, and all these so-called frontier technologies.
What is Society 5.0? A human-centered society that balances economic and technology advancement to solving society problems with super intelligent AI data systems that highly integrates digital transformation – digital twins with our organic, nature & physical space.
Taking the technology as a catalyst and driver, Society 5.0 looks for the general welfare of citizens and aims for a superintelligent society. Society 5.0 places the person at the centre of Industry 4.0 – the 4IR.
Society 5.0 vs 4IR
The concept of society 5.0 is a vision based on human nature and tech sustainable society. In this stage, humans, nature and technology find a circular economy of balance in super intelligent smart society. Society 5.0 is not about one single country or city. It is about humans, the planet and a balanced sustainable ecosystem. Here, frontier technologies, and specially smart cities, blockchain and artificial intelligence can make us more human and reach universal sustainability.
The initial concept of society 5.0 was announced to the world by former Japanese Prime Minister Shinzo Abe in a famous speech entitled "Hannover Declaration," delivered at the CeBIT 2017 in Hannover, Germany.
The exponential disruptive technologies of our time can create dystopia or utopia. They will be part of the biggest evolutionary acceleration that will shift humanity more in the next 50 years than in all the different stages of human history and evolution. The concept of society 5.0 is a vision of a present future human centred society, where nature and technology are bridging for the best possible outcomes.
As we speak, Human society and intelligence is being vastly amplified, changed and augmented by AI. Our opportunity is how to intertwine this in a way that we create a smarter and more super intelligent society that balances tech, nature and the best of our humanity.
Even with our basic forms of narrow AI we are already seeing the biggest disruption of human society. The challenges are there, of course. We are seeing manipulation of entire societies through social media, fake news and dark data, fostered by narrow AI. But the biggest challenge will be with health genetic modification – bioengineering and social AI engineering.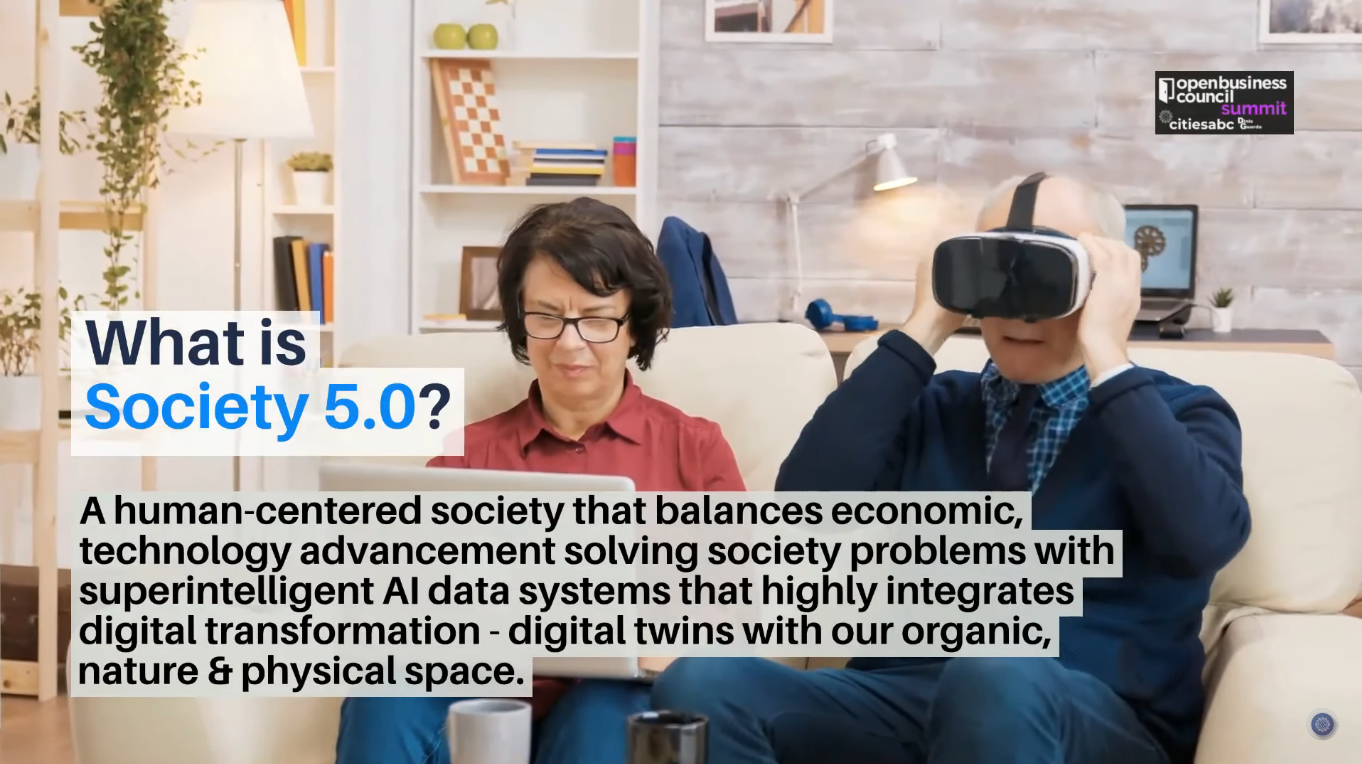 The unfolding of society 5.0 will take place in various stages, and the first one has the concrete goal of finding solutions to the UN SDG. Tying up UN SDGs with advanced technologies of our times is a practical way to get outcomes that don't serve solely economic interests, but rather society empowerment problems. When we speak about technology we tend to talk about "advances in computing technology" and many forms of tools, machinery and equipment developed from the application of research, invention and based on practical and scientific knowledge. But we need to speak about how these technologies can best enable & empower society and our humanity in balance with nature.
Technology has a transformative power when used in the right way, enabling quick change. In its full vision, and more advanced stages, it will be possible then, step by step, to implement society 5.0 at a global scale.
Society 5.0 and 4IR will be discussed at the upcoming openbusinesscouncil summit on December 9-11. 
Watch more videos about Digital Transformation, 4IR and Society 5.0 on Dinis Guarda YouTube channel.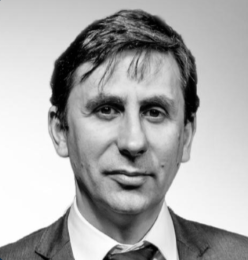 Dinis Guarda is the founder of intelligenthq.com and an author, serial entrepreneur and CEO of ztudium that manages openbusinesscouncil.org, fashionabc.org, blocksdna.com, lifesdna.com.
He creates and helps build ventures focused on global growth, 360 digital strategies, sustainable innovation, Blockchain, Fintech, AI and new emerging business models such as ICOs / tokenomics.
Dinis is the founder/CEO of ztudium that manages blocksdna / lifesdna. These products and platforms offer multiple AI P2P, fintech, blockchain, search engine and PaaS solutions in consumer wellness healthcare and life style with a global team of experts and universities.
He is the founder of coinsdna a new swiss regulated, Swiss based, institutional grade token and cryptocurrencies blockchain exchange. He is founder of DragonBloc a blockchain, AI, Fintech fund and co-founder of Freedomee project.
Dinis has created various companies namely Ztudium, a tech, digital and AI blockchain startup that builds cutting edge software, big data insights, publishes intelligenthq.com, hedgethink.com, fashionabc.org, openbusinesscouncil.org and tradersdna.com, citiesabc.com among others.
Dinis is the author of various books. His upcoming books "4IR AI Blockchain Fintech IoT Reinventing a Nation", "How Businesses and Governments can Prosper with Fintech, Blockchain and AI?", also the bigger case study and book (400 pages) "Blockchain, AI and Crypto Economics – The Next Tsunami?" last the "Tokenomics and ICOs – How to be good at the new digital world of finance / Crypto" will be launched in 2018.
Some of the companies Dinis created or has been involved have reached over 1 USD billions in valuation. Dinis has advised and was responsible for some top financial organisations, 100 cryptocurrencies worldwide and Fortune 500 companies.
Dinis is involved as a strategist, board member and advisor with the payments, lifestyle, blockchain reward community app Glance technologies, for whom he built the blockchain messaging / payment / loyalty software Blockimpact, the seminal Hyperloop Transportations project, Kora, and blockchain cybersecurity Privus.
He is listed in various global fintech, blockchain, AI, social media industry top lists as an influencer in position top 10/20 within 100 rankings: such as Top People In Blockchain | Cointelegraph https://top.cointelegraph.com/ and https://cryptoweekly.co/100/ .
He has been a lecturer at Copenhagen Business School, Groupe INSEEC/Monaco University and other leading world universities.
He is a shareholder of the fintech social money transfer app Moneymailme and math edutech gamification children's app Gozoa.
Between 2014 and 2015 he was involved in creating a fabbanking.com a digital bank between Asia and Africa as Chief Commercial Officer and Marketing Officer responsible for all legal, tech and business development. Between 2009 and 2010 he was the founder of one of the world first fintech, social trading platforms tradingfloor.com for Saxo Bank. In 2011 he created the B2B platforms socialmediacouncil.org and openbusinesscouncil.org with Jamie Burke.